A vital feature of our event ticketing system is the ability to customize your own online ticket store. You can match the look and feel of your website and stand out from your competition. Setting up a store is simple, and with a little effort, it can make a huge impact on your ticket sales. With Yapsody, here's how you can customize your online ticket store to boost ticket sales.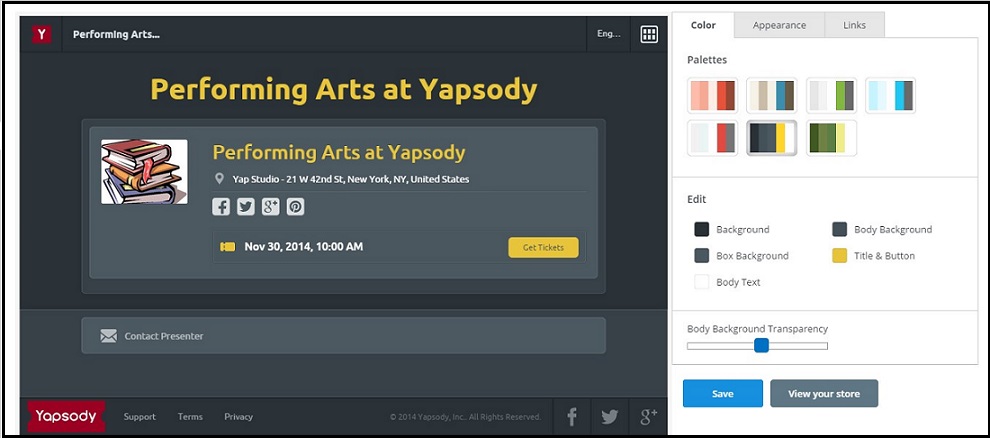 1. Create A Unique First Impression
Your event store is a subdomain provided by us where you can list all your new and upcoming events for a seamless ticket buying experience. We firmly believe that your online store deserves every element of your branding which can be identified by your ticket buyers. You can customize it by selecting a color palette, customizing your background, adding your own logos, displaying your social media profiles, and adding your own website. Remember, that sometimes, your first impression is all it takes for your potential event attendee to buy your ticket.
2. Don't Let Langauge Barriers Come In The Way
Consider yourself to be Mr. Worldwide of the event management industry? With our multi-language support, interact and connect effectively with your attendees by presenting your online ticket store and events in local languages. Our event ticketing system supports 15 prominent languages from across the globe. It's a sure-shot way of breaking the language barrier and boost your ticket sales across multiple locations and venues.
3. Keep A Vivid Media Gallery
Keep a highlight reel of your best events in the form of images and videos on your store. Images and YouTube videos can be added to your event pages. These images and videos will appear as thumbnails in the event details pages which your ticket buyers can click on to expand. This entices the ticket buyer further to be part of your amazing events.
4. Share Your Events On Social Media
We realize the power of social media and how it impacts your overall ticket sales. After creating your events, you can share them immediately on your social media platforms. You have the option to promote your events on Twitter, Facebook, LinkedIn, and Pinterest. After clicking on your shared event, ticket buyers will land directly on your store and if designed well, they'll end up buying your tickets.
Ready to enchant your ticket buyers? Sign Up To Create Your Online Ticket Store