Christmas is the perfect time to break the ice between the bosses and the staff. Organizing a Christmas party in or outside your office can help your employees bond through get-togethers and fun games. Here are 9 unique office Christmas event ideas to bring your attendees together to spread the warmth and joy of the festive season at the workplace.
Christmas Masquerade Party
This festive season, begin your celebrations with a grand Christmas Masquerade party. Apart from being dressed elegantly, they can bring their own masks. For those without masks, set up a DIY section with materials like felt pens, feathers, colored cards and ribbons to quickly create one. You can set up a photo booth in one corner along with a box full masquerade photo booth props like mustaches, Santa hats and Santa beards. The photo booth along with a great backdrop will let your attendees create beautiful memories of the evening.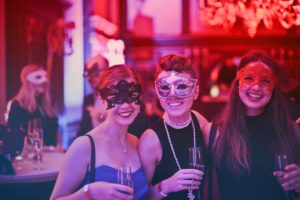 Play Cake Boss
Remember Buddy Valastro from Cake Boss? He made us all want to grow up to be renowned bakers. Make your coworkers' childhood dreams come true organize a cake decoration contest. Separate employees into teams and offer readymade cakes, cream for the icing, toppings, fruits and everything else they need to decorate the Christmas cake. In the end, you are left with plenty of beautifully decorated cakes that can be shared by the entire staff.
Cubicle Decoration Contest
You'll definitely find more than one person among your staff who is creative. Host a cubicle decoration contest. You can either provide them with the materials required for decoration or allocate a budget and give your teams the freedom to bring out their creativity with materials purchased by them.
Murder Mystery Christmas Party
If yours is a smaller organization, you can create the suspense with this Christmas party idea. Every attendee can be assigned with a character that they will play at the party. One of the attendees gets murdered and the killer is one of the guests from the party. All this time, the killer has to pretend to be one of the investigators. Get props and have your staff dress up as per the theme.
Christmas Movie Marathon
Organize a Christmas movie marathon to get your team members together. Decorate your workspace with elf shoes and hats. You can cut out pictures of your team members' faces and stick them onto elf bodies. The elf's theme is all about treats. You can serve your movie viewers with some hot chocolate and candy canes or popcorn in cute elf mugs. You can ask every team to come up with a few Christmas movie names and add them on chits. Pick one from the bowl and watch your favorite Christmas movie together.
A Women Santa
It's 2019, yet we haven't evolved as much as we should have in this department. Surprise your staff by getting a female coworker to dress up as Santa and be the bearer of gifts. This is sure to be a refreshing change at the workplace your employees will love.
Be a Santa to Charitable Organizations
Organize a Christmas Charity drive in your organization. Pick 3 causes and let your employees choose what they'd like to contribute to – be it a cancer society or an animal welfare organization. Don't restrict the contribution to cash-only. Let's say they choose to contribute to an orphanage. They can either collect cash or gift toys for these children. By hosting such drives, you'll serve the community and also make their Christmas celebration a memorable one. Also, if you're a nonprofit organization, we have special pricing for you. Know more about the special pricing offer here.
Not-So-Secret Santa
Have you received secret Santa gifts you absolutely did not want and awkwardly said "I love it" to your Santa? It happens to the best of us. Try it a little differently in 2019. Let your Santa know what you'd like this Christmas through as many hints as possible and make your Secret Santa not feel horrible about their poor gift choices.
12 Days of Christmas
Kickstart your Christmas celebration with 12 days full of Christmas activities to bring your teams together. Assign one activity each day. For example, Day 1, you can organize Christmas games like Bingo or Christmas charades. And on day 2, you can do a cookie exchange and so on. Set themes for each day. Have the staff dress up in Red and White on Day 1, elf outfits on Day 2 and like it's 2000 years ago on Day 3.
Now that you've got 9 unique party ideas to have some crazy fun this Christmas with your office colleagues, which of these are going to try? If you have made up your mind and planning a Christmas event for your office or a large community, choose Yapsody to sell tickets online. For all the good work you've done, we want to be your Santa!
Host your Christmas party with Yapsody's low priced online ticketing system and get a flat 25% off on Yapsody fees. Sign up NOW!